Kids can take their STEM learning to new levels outside of the classroom, thanks to the many extracurricular camps around Austin. These learning experiences happen throughout the year during break times and after school, but especially during the summer for children in every grade level.
STEM summer camps provide all the same enjoyment a traditional camp might, with the added benefit of potential scholastic advancement. These are the best examples of STEM camps in Austin with programs suited to every kind of kid.
It's a great way for children to learn about an in-demand set of fields while having fun with other students. Many of these programs also include fun activities outdoors where campers can enjoy the city's amazing weather.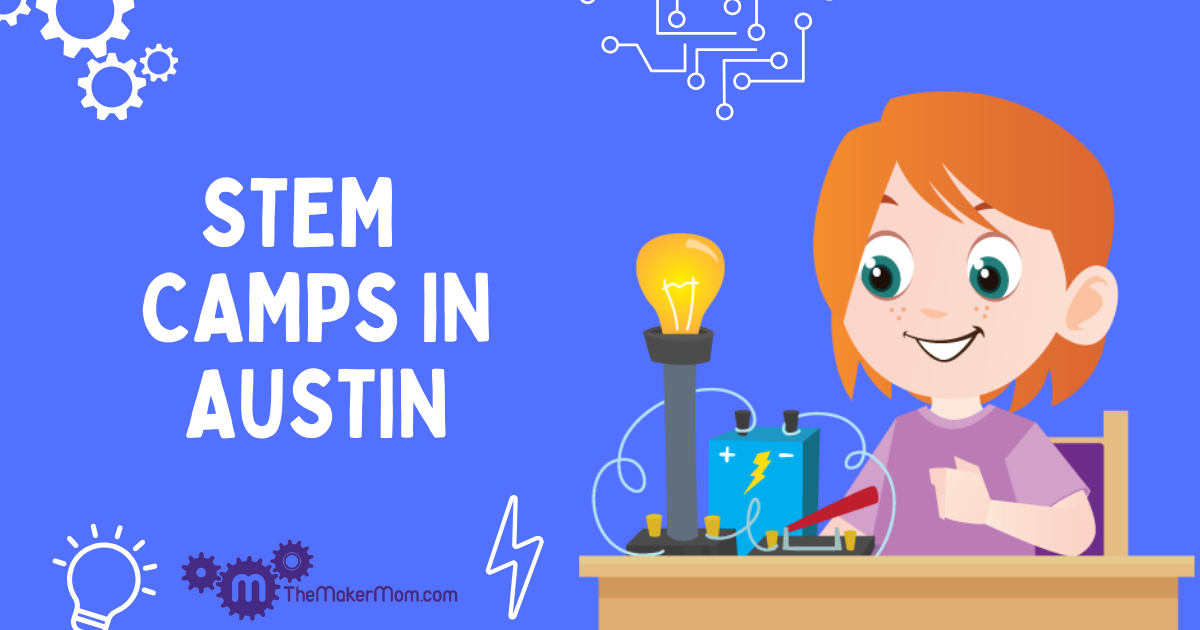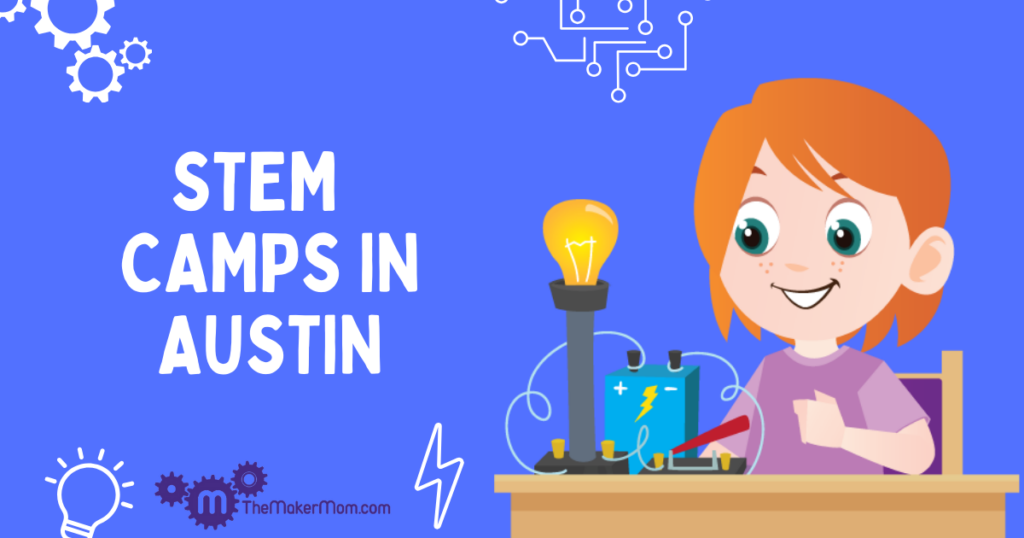 Best STEM Summer Camps In Austin
1. Steve & Kate's Camp
Steve & Kate's Camp offers camp sessions at two locations: St. Francis School and Parkside Community Montessori School. Children will enjoy the huge list of activities to engage their minds. 
They offer coding, maker crafts, robotics, stop-motion animation, music, and sports to keep them active and healthy. Kids can attend as much or as little of Steve & Kate's Camp by going with the Day Pass option. Choose any number of days and only pay for what is used.
Parents can also make use of the Summer Pass, and your kid can get full access to as many as 43 days of camp over the summer. All options include lunch, snacks, activities, and the full day from 8:00 AM to 6:00 PM.
In addition to summer camp offerings, Steve & Kate's Camp has events for winter break and other school holidays to keep kids engaged during downtime from school.
2. iD Tech at the University of Texas
iD Tech offers its summer programs at the Thomas Conference Center on the campus of the University of Texas. Students who attend this world-class iD Tech camp gain access to elite educators, work with the hottest new technology, and gain a strong set of skills through concentrated study.
All of this is done while being able to enjoy the beautiful campus during breaks. Different courses at iD Tech include coding, AI, Roblox, Minecraft, VEX, and Photoshop. The courses are taught in small classes, providing the personal attention students need to succeed.
iD Tech is future-oriented, helping children prepare for a lifetime of opportunity in STEM fields. Children who complete these courses even receive a diploma.
3. UTeach Outreach
UTeach Outreach provides STEM camps for children starting in 3rd grade all the way up to college prep courses for high school students. This is an opportunity to attend the same quality program all the way through their primary, middle, and high school years. It's a fast track to a place in one of the relevant programs at the University of Texas.
Students who attend a UTeach Outreach camp at any level are encouraged to improve their creative problem-solving skills through inquiry-based and hands-on work. The same approach used by scientists is also applied to studies in the fields of technology, engineering, and mathematics.
A summer program with UTeach Outreach helps children stay sharp when school is over. Kids learn in-depth about subjects they'll be familiar with from school, including chemistry, life sciences, and physics.
4. Game Worlds Camp
Game Worlds Camp allows children 8-18 to dig into the world of game development one week at a time. At this in-person camp, kids learn every aspect of game development. The schedule is Monday through Friday, 9:00 AM to 5:00 PM, with a 1:4 instructor-to-student ratio.
Kids get taught about game creation from start to finish and work with real-world software tools. The knowledge gained in programming, animation, and audio creation is useful for software development in general as a hobby or career down the road.
In addition to the summer camps, Game Worlds offers camps in the fall and spring around school breaks. Children who want to seriously pursue game design and development can attend STEM programs year-round at Game Worlds.
5. UTSA Summer Camps
The UTSA Summer Camps take place near the south end of Austin and the north side of San Antonio. Students 5-18 can choose from topics on engineering, criminal justice, cyber security, architecture, interior design, and many more.
Depending on availability, they can attend single, day-long sessions or choose from week-long camps that go every day from 9:00 AM to 3:00 PM. It can be used as a supplement to other programs off campus or as a series all in one convenient location.
There are also options for sports and liberal arts if you want your young ones to round out their learning experience.
6. Mad Science
Mad Science is available at dozens of locations around the Austin and San Antonio metro areas. Half-day to week-long day camps are available for kids ages 3-12 interested in learning more about science.
The activities at Mad Science are scaled according to the age of the students and what they might be learning at school. It's a fun, non-competitive way for students to learn about fundamental concepts in science and develop a better understanding of the process.
Through themes and stories involving space exploration, an inventor's camp, and a secret agent lab, campers learn about science in an encouraging environment while mixing in physical activity. The captivating stories help keep kids effortlessly learn applicable skills.
7. Girlstart Summer Camp
Girlstart invites girls between 4th and 8th grade to enjoy an immersive STEM summer camp experience that includes hands-on activities and team-building exercises. As one of the only girls-only camps in the area, it provides young women with a judgment-free environment to learn and grow together.
Themes at Girlstart include space exploration, marine biology through a quest under the sea, and a better understanding of the human body. All themes occur multiple times throughout the summer, so girls get the chance to learn about what they're truly passionate about.
Sessions are available in one-week increments, with discounts available for multiple weeks and every week is a unique experience. Be on the lookout for their Girls in STEM Conference.
8. Elite University Summer Camp
Elite University Summer Camp is hosted in Austin at the Camp Steiner Ranch. They offer a series of solo and group activities in their one-week programs. Children receive a supplemental education into STEM concepts so they're ready to dive in when the school year starts again.
They teach children about veterinary science with animals, architecture with building plans and models, and robotics, thanks to LEGO. All camps include field trips to places that complement the activities, including the Austin Zoo, Lennar Homebuilders Site, and The Thinkery.
Elite University also hosts camps for athletics and fine arts, with a large range of activities like rock climbing, gymnastics, ceramics, cooking, and water sports.
9. Austin Tinkering School
Austin Tinkering School offers camps to students 5-11 every season. There are single-day and week-long sessions situated around all major holiday breaks, as well as after-school clubs. Children can fill in their free time with a class here and a workshop there whenever they see fit.
Tinkering is a way of life in these classes, as children are encouraged to play to their imaginative strengths and learn by doing. Through the supervised use of simple tools, children work on arts and crafts while learning valuable hands-on skills.
Austin Tinkering School is conveniently located in the center of the city, bordering Patterson Park and a playground and within walking distance of The Thinkery.