Book your child into a STEM/STEAM summer camp where they can sharpen their skills while having lots of fun. Focusing on science, technology, engineering, and math, STEM camps aim to fill the general gaps within those careers.
In a couple of cases, fees for these programs are covered by donors, making them completely free of charge to attend. Others are low cost, and some have higher costs but create a learning foundation that can benefit your child in college and a future career.
These listed STEM summer camps in Atlanta each have something unique to offer. Some offer a child-led program, while others admit only female students.
There are also options centering on the natural environment, technology with coding, and those with a more academic focus.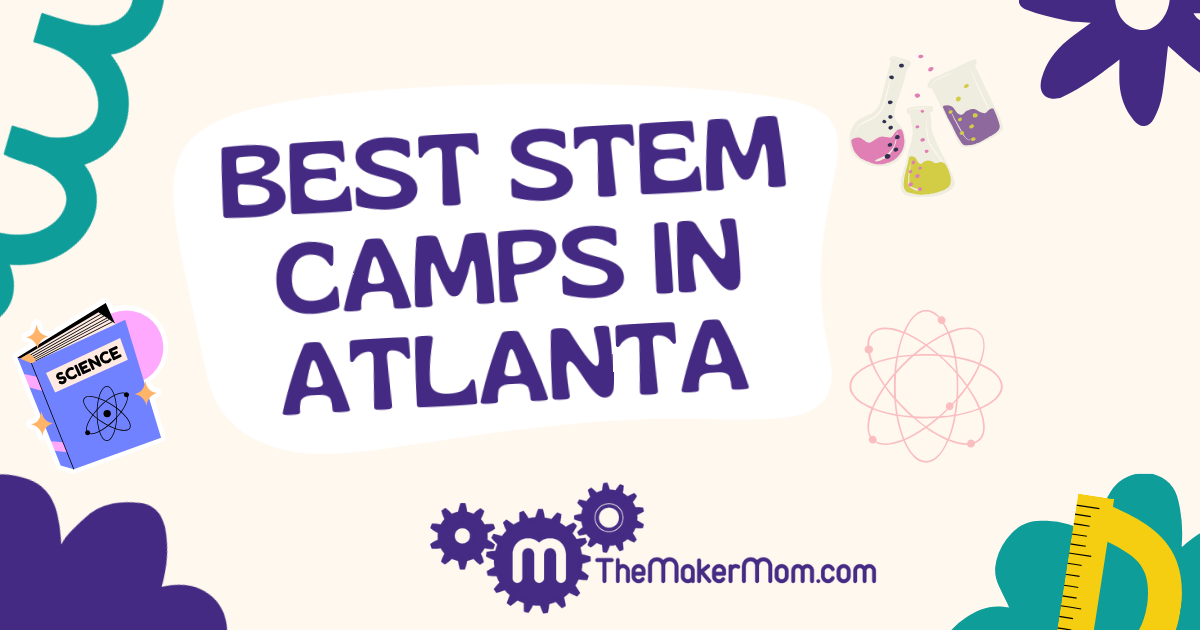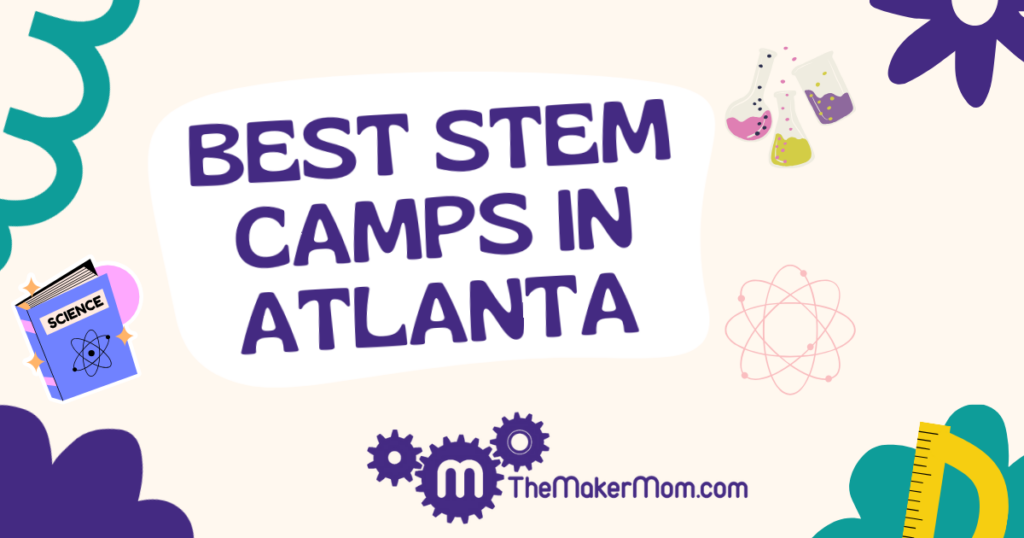 Best STEM Summer Camps in Atlanta
1. Steve and Kate's Camp
Steve and Kate's Camp in Atlanta is a camp with a difference. Here, it's all about giving kids free rein within safe limits. Steve and Kate's has locations all over the US, and Atlanta is one of its top spots.
Kids ages 4 to 12 can attend their camp with a day pass. Parents are free to choose any number of days they want their kids to attend and get refunded for any days that aren't used, making scheduling a breeze. They also offer day camps during the school holidays outside of the summer.
The biggest thing kids can learn at Steve and Kate's Camp is to find out who they are. They can learn new skills by participating in a range of activities, including robotics, coding, crafts, sports, and even motion animation. By choosing what to try and when, children are handed real freedom to grow at their own pace.
2. Zoo Atlanta
Zoo Atlanta runs a stand-out safari summer camp where kids can work alongside zoo animals while learning. You can book them in for the entire summer or pick a one-week stay.
Children ages 5 and 14 can experience amazing and close-up encounters with some of their animals. They also take field trips to Grant Park and explore a more natural wildlife setting.
STEAM-based projects are all part of the Zoo Atlanta camp, and there is also a focus on environmental projects. Team and environmental games, nature walks, and practical science activities are just some of what's offered at this summer program.
3. MJCCA Science Summer Camps
The ethos of MJCCA summer camps is to combine a fun experience with academic achievement. Science, technology, and math are the key subjects the program is built around, and students between first and eighth grade are welcome to participate.
STEM experiments and projects form a core part of the program of their science camps. It's all about giving kids a hands-on experience which they can learn from and developing teamwork and technological skills is also key.
Their activities are age-appropriate and designed to appeal to a young audience. A Minecraft Creators Camp is one of the options, while others center on building mobile apps/games or honing youngsters' graphic design abilities.
4. Trees Atlanta
Trees Atlanta is a non-profit organization offering elementary students low-cost camps. Options range from advocacy to forest restoration or the youth tree team. Campers can also come here during the spring, fall, and winter holidays.
They offer various themes all focused on the natural environment. Topics include forest animals, fungi, geology, water, and of course trees. You can book a spot for your child for a week or just a few days.
If you want to get a taste of what this organization has to offer, Trees Atlanta provides a free tour of the Atlanta BeltLine Arboretum. This botanic garden comprises 85 acres and houses around 370 tree and shrub species, in addition to many other types of flora.
5. Morehouse College Summer Academy
The Summer Academy run by Morehouse College is available to college students, as well as those in elementary, middle, and high school. Their programs aim to enable academic advancement in arts, sciences, humanities, and technology.
Unique features that make Morehouse programs stand out include teaching all about the history of the Atlanta area. Classes are taught college-style to prepare students for university, and practical subjects like careers, leadership skills, and finances are also covered.
In terms of programs, younger kids can join the likes of the iSTEM work option, while older ones can study at SMASH Academy, a pre-college STEM program. There are also accelerated enrichment and achievement-focused academic courses.
6. Critter Camp
Critter Camp is true to its name, focusing on teaching students about creatures. This time it's small animals that are at the center of it all. They feature reptiles and amphibians, including snakes, lizards, frogs, salamanders, and turtles.
Critter Camp has spring and winter camps available in addition to summer camps. The sessions are run from two locations in the Friends School of Atlanta in Decatur to the northeast and the Amphibian Foundation.
Every session is limited to a maximum of 12 participants, ensuring your child gets the individual attention they deserve. The native and tropical amphibians are used to teach biological and ecological concepts.
7. Odyssey Atlanta
Around 400 kids in grades 1-12 from disadvantaged communities are welcomed onto the Odyssey Atlanta's 6-week summer program every year. The camp is built around STEAM concepts, and lessons are aimed at developing a thirst for learning.
The Westminster Schools are used as the base for the project. Families only need to pay a nominal fee to register, with the rest of the fees being funded via donations. Lunch, snacks, and transport are also supplied.
Odyssey Atlanta's established and proven program results in 100% high school graduation rates. Applications close in February. Parents need to submit their child's school report card, as well as an application form and a short video.
8. Buttercup STEAM
Buttercup STEAM is a girls-only camp centered on teaching coding lessons. Sessions last for a week and focus on practical projects with a steampunk theme. No prior coding experience is required nor assumed.
Buttercup camps are open to female students between 8 and 14 years old since older kids can get the best out of their experience. Two programs take place in June based at Bishop Street Northwest in the city and are open to beginner and intermediate-level coders.
The ethos behind Buttercup is to promote and further female participation in technological professions. There are options for beginner and intermediate levels in case you're child has already attended before.
9. STEM Gems
STEM Gem's hope is to engage females and minorities in particular. STEM Gems also aims to fill the predicted future gap in technological and engineering careers.
Camp lasts for a week and is open to students who attend eighth, ninth, or tenth grade. Georgia Tech in Atlanta is the venue, and programs are delivered between 8:30 a.m. and 4:00 p.m. daily, Monday to Friday.
The best thing about STEM Gems is that it's completely free to attend. During their week at camp, girls are given an activity kit, a STEM Gems book, and a t-shirt. They'll also undertake practical activities, visit the labs daily, take part in outdoor learning, and engage with experts in regular Q&A sessions.
10. Oaktree Camps
Oaktree Camps aims to make every camper feel as if they're part of an extended family. There is a firm focus on ensuring every child feels genuinely recognized and accepted for who they are.
STEAM activities are made fun to encourage student engagement with STEM. Campers can also join in with a range of exciting outdoor adventures like hiking and birdwatching and enjoy a choice of arts and crafts projects. The latter includes more unusual pastimes such as kite design, foot painting, and cartoon sketching.
Team games and regular sports are also part of the deal at Oaktree Camps. Kids can play everything from crab soccer to water balloon games and Quidditch. 
If you know anybody in the Austin area, tell them to read this article on Austin STEM camps.