Standing for Science, Technology, Engineering, and Math, STEM is a term that's used to group these disciplines together. These are arguably some of the most important topics your child can learn throughout their school life.
You'll find plenty of fantastic STEM camps in New York City where your child can spend the summer learning about some truly fascinating subjects. This ranges from the natural world to architectural design, so there's something for every child.
Whether you're looking for a week-long class or a whole summer camp, there are lots of options in NYC so let's get right into it.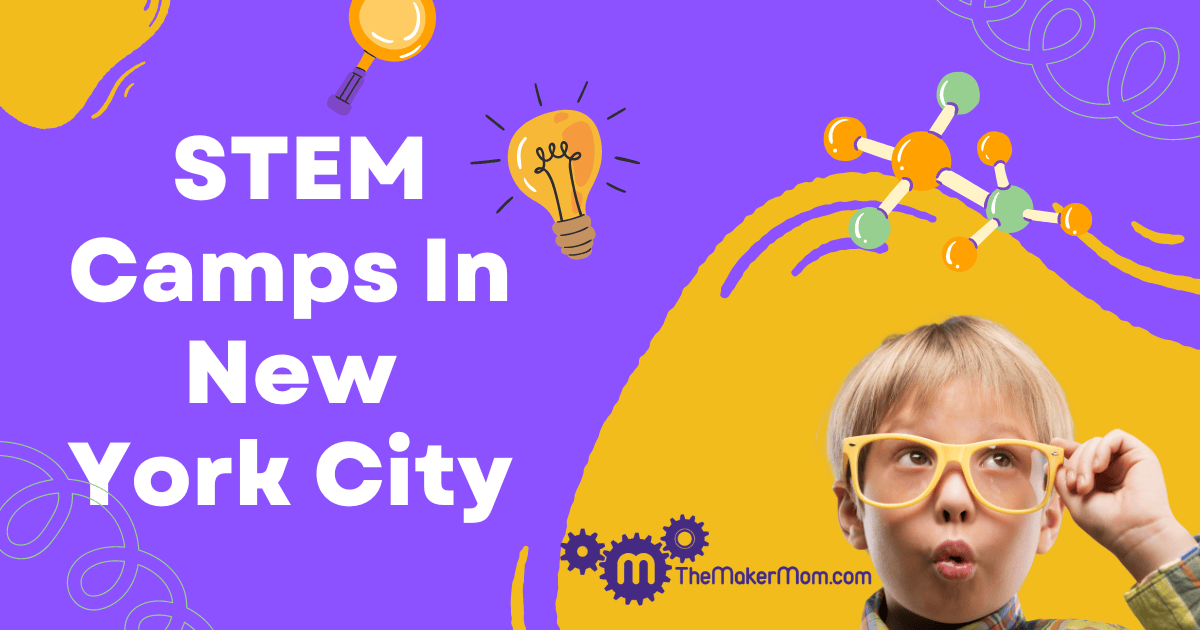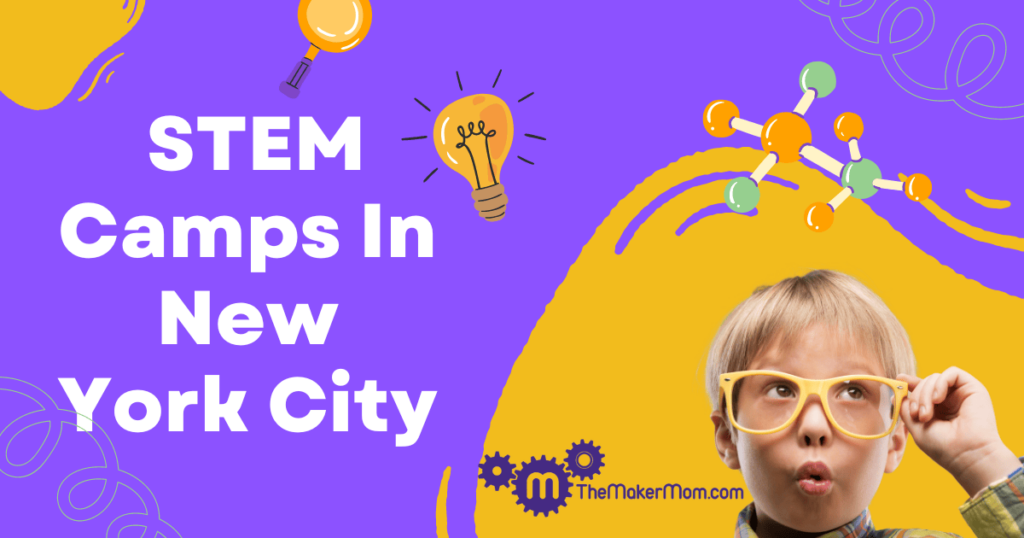 Best STEM Summer Camps in NYC
1. iCAMP
Summer camps at iCAMP typically run from 9:00 am to 3:30 pm and are usually held within independent schools that have a park next to them. Kids spend time in the classroom as well as outdoors.
Open to children aged 3-13, children are split into a group depending on their age range, and what they learn will differ to suit them.
Younger children's topics include science, art, and preschool subjects. Older children will be able to learn about video game design, robotics, coding, and graphic art, among others.
iCAMP runs from early June to August, and they have extended days. 
2. Maker State
The Maker State has summer camp locations for several neighborhoods in New York City: the Upper West Side, the Upper East Side, the Lower East Side, Park Slope, and West Village.
Maker State is a good option for children who want to get involved with a variety of creative projects. Whether they're interested in rocket science, coding, engineering, or arts and crafts, your youngster is bound to find something they like.
You can opt for a day (or several) at the camp or pay per week, with the total camp length being 6 weeks. This camp is suitable for children ages 6-12 years and they even often after-camp care until 5:30 pm. Outdoor games are also part of the fun and keep children energetic.
3. Steve and Kate's Camp
Located in the Upper West Side of NYC, Steve and Kate's Camp has over 40 years of experience running programs all over the U.S.
It runs from mid-late June through August, although the dates differ each year. Camp runs from 8 am to 6 pm with lunch and snacks included, and it caters to campers ages 4-12 years old.
Purchase day passes or summer passes, and get a refund for any day that goes unused. Each day is something different, so it stays interesting and non-repetitive.
The highlight of Steve and Kate's Camp has to be the variety of fun camp activities. Your children can get involved with baking, science, sports, sewing, and coding.
While you're here, also read our Chicago STEM Summer Camps page.
4. The WaterFront Center
Kids can explore the outdoors at The WaterFront Center! Located within The Oyster Bay National Wildlife Refuge, campers can take to the water and explore the local area.
Their camps are open to kids 6-18 years old. There are two main camp options: the 'Youth Sailors' program and the 'Marine Explorers', which is more STEM-based.
The day-to-day differs depending on the age of the camper. Youth Sailors offers kids an introduction to sailing, while Marine Explorers focuses on the ocean, nature, and immersive activities like kayaking.
The WaterFront Center runs an 8-week camp and the classes are scheduled into each of their weekly sessions.
You have the choice to split your children's schedule between the two, so they can learn how to sail while learning about the ocean and marine life and wildlife.
In addition, don't forget to explore our STEM summer camps in Boston guide.
5. Girls Rise Up
Through a combo of STEM and dance, Girls Rise Up is a 3-week summer camp that runs in July and August. In New York, there are four locations: New York University, Barnard College, Community Folk Art Center, and La Casita Cultural Center.
The days are typically 9 am – 3 pm, with slight changes based on location. Kids should be able to attend the entire 3 weeks. It's an all-girls camp that caters to ages 8-18.
At Girls Rise Up you can get hands-on experience in a variety of subjects including engineering, robotics, and coding. The camp also focuses on different dance styles, like hip-hop, contemporary, and step.
During their time here, children also work on creating their own choreography!
6. iD Tech
While iD Tech has locations in states across the U.S., their location at Washington Square in NYU stands out. The camp is for those 7-17 years interested in STEM education.
There are two specialized STEM summer camps available. The iD Tech Camps for 7-17 is a and iD Teen Academy which is 2 weeks long and is for older children 13-18.
Campers can learn about a whole host of STEM topics, including coding, robotics, game development, and video production.
The carefully selected instructors are all from the U.S. and recruited from NYU and other top universities. The small class size and learning with the latest tech guarantee a good experience for students in NYC.
7. Avenues
Located within The World School in Manhattan, Avenues runs an awesome day camp for children in nursery up to 5th grade. They have the Avenues Language Immersion Camp and NORY@Avenues.
The latter is more STEM-focused and provides campers with plenty of hands-on experience. NORY@Avenues is partnered with NORY which is a software company to teach STEM skills.
These sessions run weekly and cover robotics and innovations for children who are curious and eager to learn. Their online language learning program for K-12th grade students covers Mandarin and Spanish languages.
8. Hofstra Summer Camps
Hofstra Summer Camps run various specialty camps for children in every grade level between 2 and 10. This includes travel, sports, aquatics, art, and of course, a STEM Workshop Camp.
Located in Long Island, this workshop aims to improve a child's problem-solving skills and creativity. They learn all about science, technology, engineering, and math.
For those specifically interested in Science, there are a couple of specialty sessions including the Science Discovery Lab, Marine Biology, and The Science Experiment.
Sessions can run for up to four weeks, covering all the summer months and run each weekday from 9 am to 4 pm.
9. American Museum of Natural History
A favorite in New York City that books up quickly, the Adventures in Science Camps are run by the American Museum of Natural History. Focusing on the natural world and science, these week-long camps are suitable for students in 2nd through 5th grade.
Within these science camps, campers explore the museum and its exhibits, study specimens, and meet scientists, so they're in for an action-packed week. Kids even get to see live animals, ideal for nature lovers.
There are typically four types of camp available: GeoAdventures and MuseumAdventures (grades 2-3), and MuseumExplorers and AstroExplorers (grades 4-5).
Spots for these camps fill up fast so reserve a session for your child as soon as possible.
10. Center For Architecture
These weeklong summer programs are run by the Center For Architecture that cater to students in 2nd – 12th. There are 2-week architectural design studio courses available too.
The camps differ based on your child's age, but each group has 8 to 9 choices. Students can learn everything from drawing techniques to designing 3D models of cities.
They include digital design, building model treehouses, animal architecture, and skyscrapers among others. Camp hours are from 9 am – 4 pm, and there are several need-based scholarships available.
Like many of the other STEM camps in NYC, these camps get booked up quickly.