Dash and Dot are the new robots for young children from Wonder Workshop. You might have met them as Bo and Yana from Play-i when they were in the Kickstarter phase. Dash and Dot robots and their accessories started shipping in late 2014. The company has not only changed names, but they are busy refining their software, too. One thing has not changed, they are still programmable robots geared toward children as young as five.
Wonder Workshop sent me the whole shmear- Dash, Dot and a full suite of accessories, also known as the Wonder Pack which includes a xylophone, a tow hook, bulldozer for Dash, a smartphone holder, a bunny costume (?!), and extra brick connectors.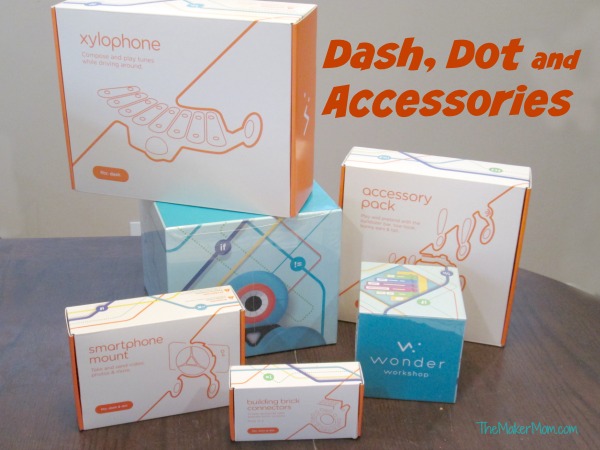 Dash is easy to use right out of the box. The most important thing to know, and this is really important, is that the robots are currently only optimized for certain devices. I've detailed those devices below and will warn you if you don't have the proper device, Dash and Dot will be little more than pricey remote-controlled vehicles. But if you have the right device, I think these robots can be a sound investment.
At this point I'm an experienced Kickstarter backer and I've learned that few companies are actually able to deliver on their full promise in terms of timelines and product expectations. It's not that these start-ups are out to swindle anyone, it's just that, as my husband often says, "things always take longer than expected." Wonder Workshop expects to have a more robust suite of Android apps released by March 2015 and I believe they are working hard to make their robots and software live up to people's expectations.
Dash Unboxed
As I said, Dash is easy to use right out of the box. He (she?) comes with a charging cable and two brick connectors. The connectors allow you to embellish Dash with LEGO, Technic and bricks from other popular building sets.
Here we were just being silly.
But later we got more practical and my son fashioned a mallet-hand to go with the xylophone and mallet.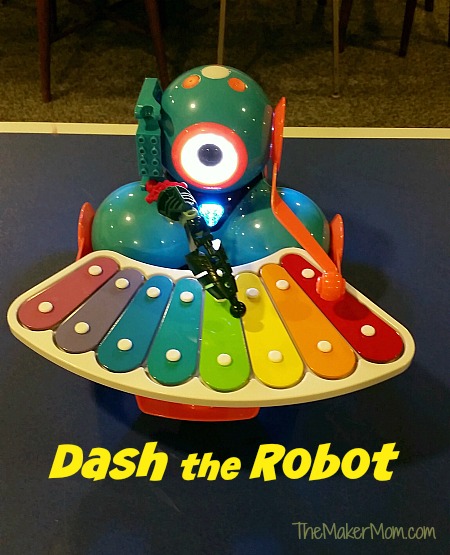 I demo three of the iOS apps, Go, Xylo and Blockly, in the video below. The real gem is Blockly, a drag and drop programming app that lets even young children program the robot's movements and sensors. It's simple enough that pretty much anyone can open the app and start coding. Give a look!
If you've got the correct device (see below), I think this is solid piece of playful and instructive tech that has the ability to grow with a young child (say under age 9 or 10), especially given that the suite of apps will likely grow over time. It's also a fun device for those who might otherwise be intimidated by robots or coding (I'm thinking grandparents and even parents, here).
The price to play is steep, but just as I expect the number of apps grows, I hope the price will drop. The accessories are fun, but can be purchased over time like the way you add to your LEGO collection. Who knows, maker kids might even be inspired to fashion their own!
In addition to more apps, I hope Wonder Workshop will add a community to their site so that kids can share their videos of their programming projects and inspire others with their innovative ideas. I think this will happen via YouTube, but it makes sense for them to try and set up their own one-stop playground.