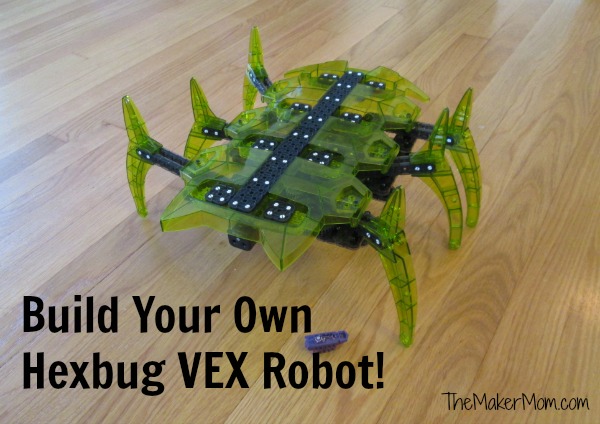 When he was in elementary school, The Young Maker Teen, was a big fan of Hexbug Nano, those tiny robotic bugs that are essentially gussied up bristlebots. I recall looking at him one day surrounded by various "habitats" spread out in our basement with lots of the critters buzzing around thinking, "Wow, he's spent a lot of his gift money on Hexbugs." I'm quite certain I thought it and didn't speak it, but a few seconds later, as if he reading my mind, he looked at me and cheerily announced, "Hexbugs were a really good investment!"
Out of the mouths of babes.
I mean, like me some Hexbugs, too, but knowing that their company also makes VEX robotics parts–you may recall I started and coached a VEX Robotics team for two years–I have long felt the company was shortchanging kids by giving them robots rather than teaching them to build robots at home.
Enter Hexbugs VEX Robots!
I was delighted to be among the first to try the new Hexbug VEX, or as I like to call it, the Hexbug VEXbug. They sell four different kits to build four unique creatures:
Ant ($49.99)
Spider ($69.99)
Scarab ($69.99)
Strandbeast ($89.99)
See the site for full details on the various robots.
Each kit comes with everything you need to build the robot, sensors as well as a "brain," that is paired with a controller to bring it to life. No tools are needed during assembly because the pieces snap together with pegs, tiny pegs–and a lot of them. You'll see in the video below that I found a storage container to sort the many tiny pieces in the kit.
We got to try the VEX Robotics 4-in-1 Kit
. This kit allows you to build all four robots (one at a time) and any crazy creature your can dream up with the many parts.
However, the 4-in-1 Kit only comes with one controller/brain set, so if you have more than one child who is going to want to build and drive a robot, consider buying two of the individual kits.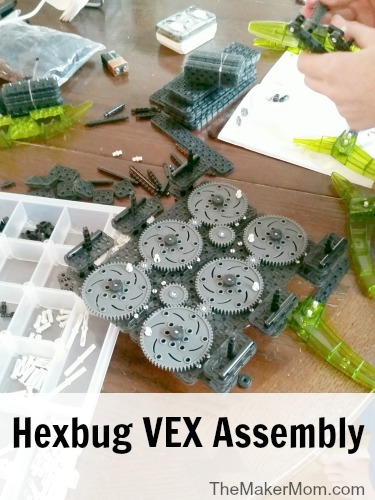 The kit is rated for ages 8 and up. I think most kids under 10 will want or need some adult assistance. See my video for more tips.
As an Amazon Affiliate, I benefit from sales over there, but, when possible, I like to check prices before sending you over. As of posting time it appears that they have a reasonable price on the 4-in-1 Kit, but the single kits are currently selling for more than they do via the Hexbug site.
Take a closer look at the Hexbug VEX Scarab robot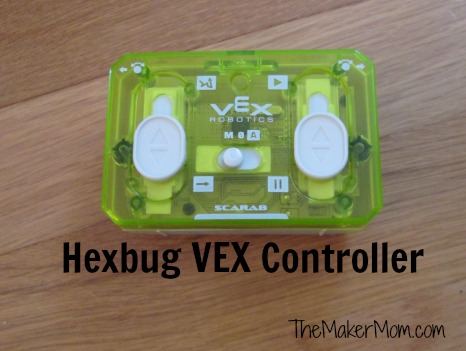 This has nothing to do with the product itself, but I do want the brand to know that people, even white people like me, notice these things. I did a virtual head smack when I the three white kids playing with the product on the homepage of their website (at least one of them was a girl…). So I was especially glad to see that the box of our 4-in-1 kit featured a girl of color on the package. I just want as many kids from as possible to know that robot kits are for them regardless of their sex or ethnic background.
Let me know in the comments if you have any questions about the kits. I'm glad to see Hexbug taking this important step to empower STEM kids to make their own robots.