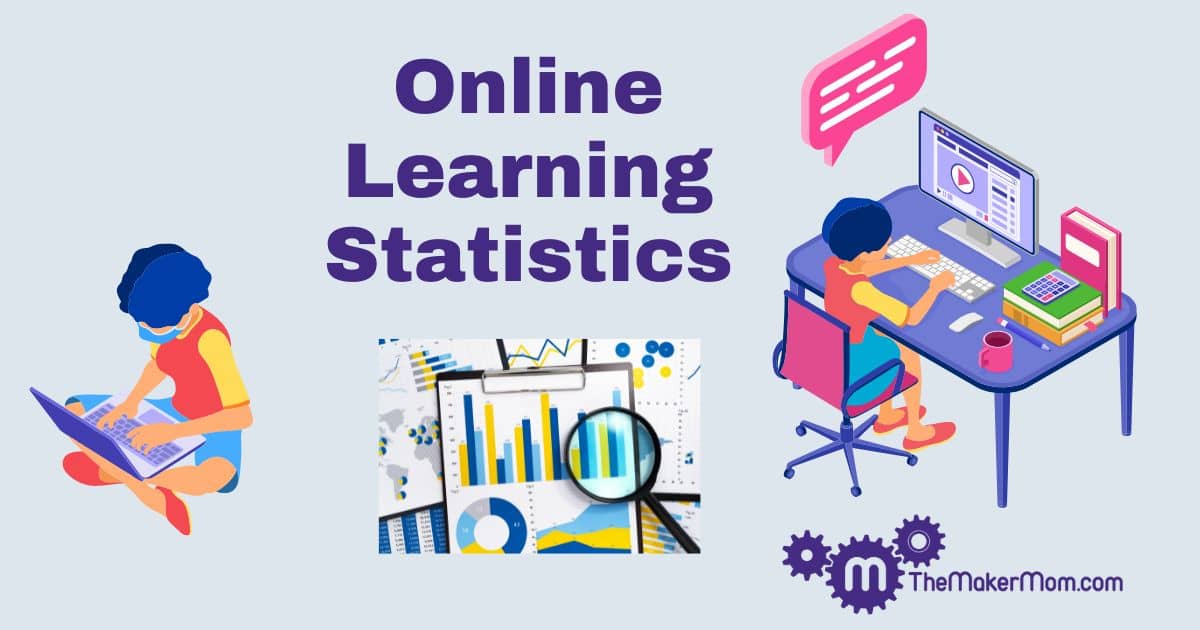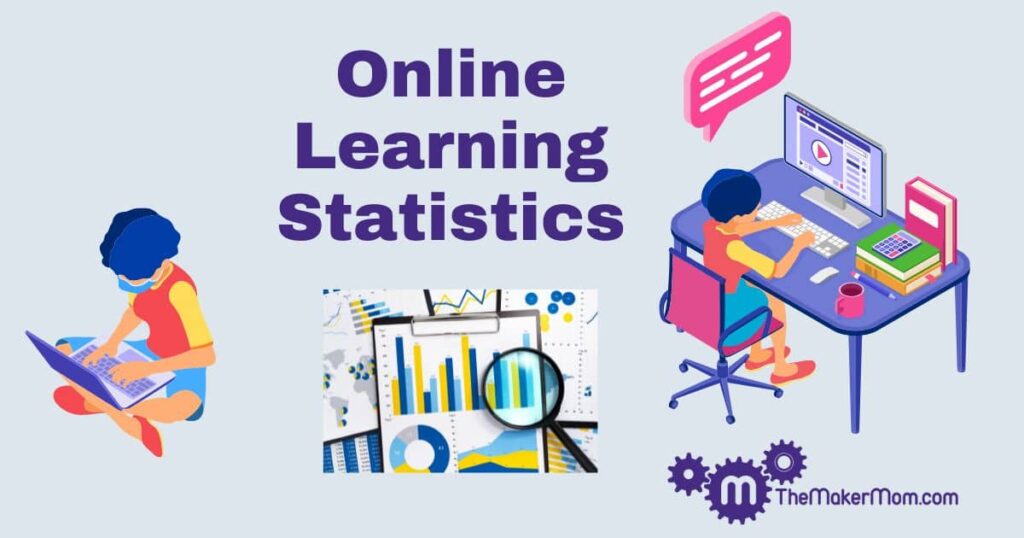 In the fast-paced, ever-changing digital landscape, children are exposed to dramatic increases in technological advancement. This begins as early as 2 years old when kids can play with tablets and continues all the way through their development.
Educational institutions at every level have adapted to this changing landscape. The pivot to online learning came out of necessity and will remain for the same reason. Technology continues to improve and gives children the opportunity to experience the finest education possible no matter where they are.
There are loads of statistics that show what the future holds for online learning, and here we show how online learning is affected students of different ages and from all around the world.
Availability of Technology
The broad availability and affordability of mobile devices have been a boon for schools. Approximately 57% of K-12 students in the United States are issued personal mobile devices for educational purposes.
Online Tutoring Is a Growing Field
Online learning opens the doors to educational opportunities outside of school hours. It's estimated that online tutoring for kids K-12 will see annual growth of 12% between now and 2025 around the world, says IndustryArc.
Retention Rates
Retention rates move from 25% up to a staggering 60% with the implementation of e-learning, according to Forbes. This is an impressive jump considering the number of things vying for the attention of the average student these days.
Online Learning Methos
There are multiple ways that online learning engages students, and there are some clear favorites among kids.
Online educational videos are a wildly popular option, accounting for approximately 67% of the resources used to teach. Educational software and applications are close behind at 65%.
A reported 45% of elementary school students use online learning resources, and this number gradually increases as children graduate to middle and high school. At these times, the reported average goes up to around 65%.
E-Learning Is Potentially Better for the Planet
Children in school today will be the leaders of tomorrow and online learning gives them a chance to live in a better world. There have been studies done to show the environmental impacts online learning can provide, and the numbers are encouraging.
E-learning potentially reduces carbon emissions by as much as 85% over traditional, in-person education. This benefit simply cannot be overstated. Energy consumption, transportation, and time spent learning can all be reduced drastically thanks to online learning technologies.
Online Learning After K-12
Online learning has seen a major surge in students enrolled in undergraduate and graduate-level institutions. Many of these students achieve most, if not all of their credit hours through online courses.
Between 2008 and 2016, the percentage of students who attended strictly online undergraduate courses jumped from 3.8% to 10.8% in a report we read by the National Center for Education.
Among these students, 46.4% were studying business, computer science, and healthcare. Each of these fields is a growth field with a positive career outlook for at least the next decade.
Graduate-level students attending strictly online courses jumped from a mere 6.1% in 2008 to 27.3% in 2016. The most sought-after professional degrees can now be effectively gained through online education.
Technology Makes Better Educators
The proliferation of online teaching technologies helps educators every bit as much as it helps students.
Around 90% of K-12 public school teachers assert that digital learning tools are the best option when doing research or gathering data.
Tracking results becomes as easy as utilizing existing technology compared to the old-fashioned model of pen and paper and physical record keeping.
35% of faculty have suggested that online tools have given them immediate, actionable data to accurately grade their students' performance.
E-Learning Does Have Challenges
Despite the rapid pace of technological growth, online learning does have a fair share of hurdles that are difficult to overcome in the short term. These are primarily due to budgetary restrictions within school systems, already stretched thin by growing costs.
63% of schools have reported that they simply don't have enough in their budget to support a switch to a fully online learning model.
Connectivity is also an obvious challenge, as 45% of schools report issues with the availability of high-speed wifi. Rural communities become the areas served last and least by online learning for this reason. Recent federal commitments to infrastructure seek to close this gap, but these changes take years.
When you take into account that a small portion of the population of K-12 children will not be best served by this type of virtual education model, there is a fair argument to be made for retaining traditional classrooms. Not all children are made the same, and some kids just thrive with in-person, structured learning.
There is a growing concern that students that attend online classes will suffer learning setbacks. Due to the recent development of this technology and the limited data available over a longer period of time, these reports remain speculative at best.
The concern is valid and has been raised by the U.S. Government Accountability Office, citing pre-pandemic data about online schools in relation to data post-pandemic. Online learning opportunities vary greatly depending on factors largely outside of the control of many students including household wealth and physical location.
Perhaps unsurprisingly, the affluent, ideally placed student has a greater opportunity to receive a quality online education than a child who comes from a lower-class family. This is a systemic problem that requires years to correct and oversight on nearly every level to achieve.
In addition, there is a glaring example of the disparity in racial equality evident in the United States provided by online education. Device availability is not a guarantee and white students have a distinct advantage over their non-white peers when it comes to having access to the technology necessary to attend online courses.
Online Schools Explode Onto the Scene
A couple of years ago, schools everywhere were forced to make the transition to the distance learning model.
Fully online schools had already existed for decades prior to this, but enrollment skyrocketed during the years 2020 and 2021 and has risen consistently since then.
Across a sampling of 10 states, enrollment jumped 176% between 2019-2021. When applied to the entire United States or the globe, the numbers quickly show tens of millions of newly enrolled K-12 students.
Although the face-to-face, personal approach is compromised with the online learning model, reputable schools have measures in place to provide this to all students. This means that the one-on-one attention students might receive in a traditional classroom is also provided online.
Online Education Translates to Career Opportunities
The explosion of the online education industry has created an entirely new career field for educators who can effectively teach online.
Thousands of professional educators can now effectively reach millions with their teaching through platforms such as Udemy, Coursera, and Thinkific.
Children who receive their education online will be prime candidates to teach future generations how to utilize this learning model.
Accessibility and Online Learning
There are valid concerns about the ability of online learning tools to help children with impairments receive the same level of education as their able-bodied peers.
A study regarding access and engagement determined that nearly 60% of educators reported that students with visual impairments had difficulty accessing at least one of the digital tools provided and 35% had difficulty with two. This may only be the proverbial tip of the iceberg but further time and study are required to determine how to best serve the needs of the impaired.
The W3C Organization is responsible for the standards and practices utilized by all front-facing internet companies and this extends to those who provide e-learning.
The W3C has begun to create a recognized standard of development that will allow organizations of all shapes and sizes to provide their educational resources to the most students possible, regardless of their disability status.
Recent years have highlighted all of the inherent problems with online education for the disabled, but efforts are being made to level the playing field.
Conclusion
Online learning has become the future and the statistics clearly show what the next generation's education will look like. Technology drives the future, and children pick it up at an earlier age than ever.
Kids who are technologically savvy from a young age are poised to be the pioneers of the future, pushing us forward as a whole. Online learning is a highly effective means to this end, and it's here to stay for the long run.