With incredibly strong technology and sciences industries, it's no surprise that Seattle has a wide array of STEM summer camps and classes for students. The city is the perfect place for your kid to explore their interests. 
Whether they want to go out and investigate the environment around them and learn about the local biodiversity or build robots that can go and perform tasks underwater, you can find a program for them in the city.
No matter their age, these STEM camps in Seattle are a great place to learn the fundamentals and ignite a passion for a future career in STEM.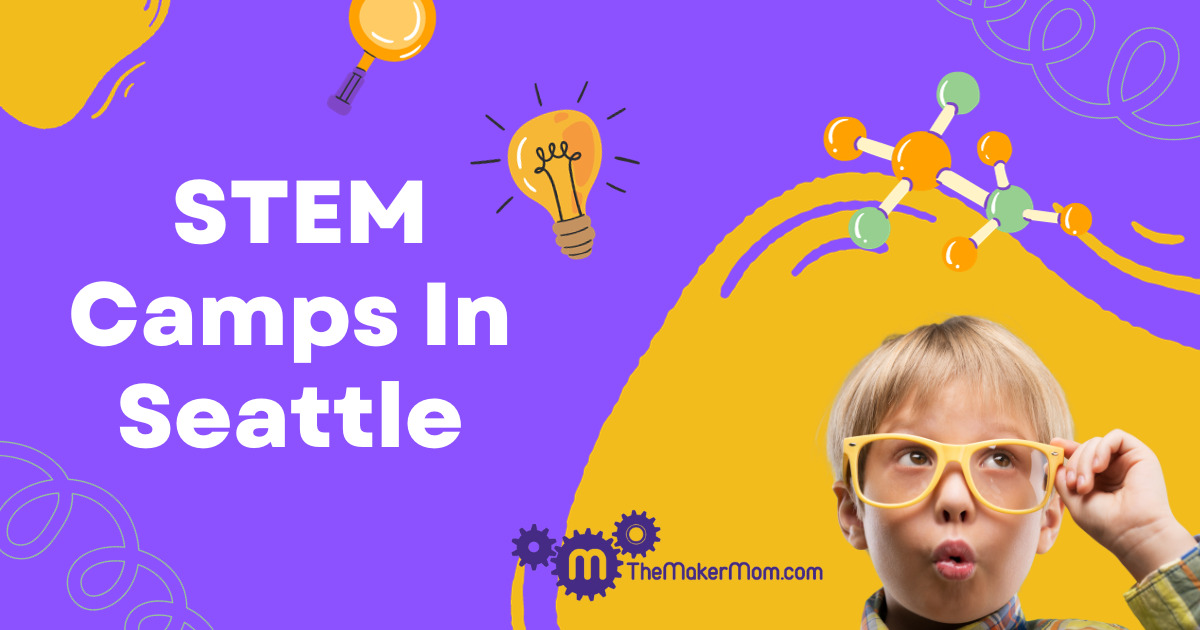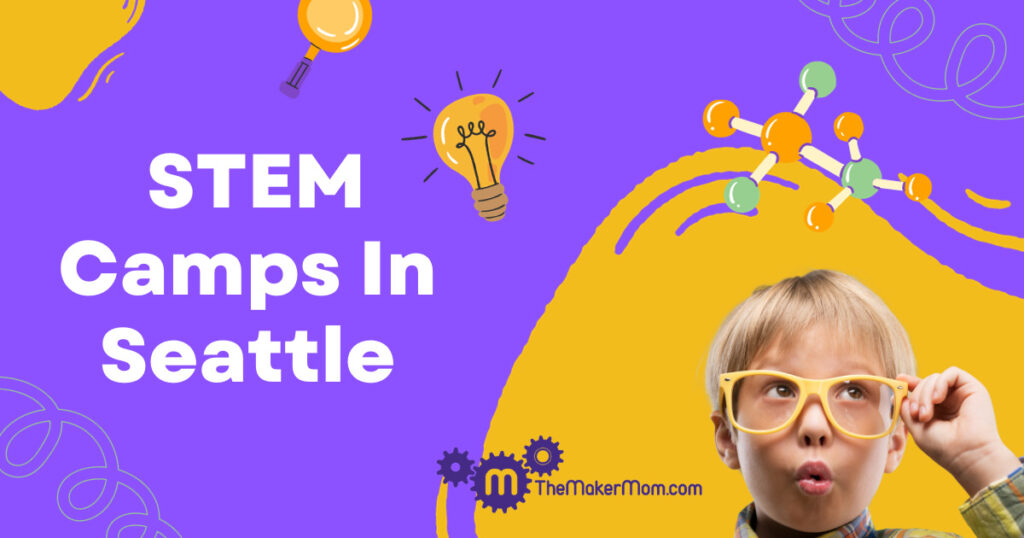 1. Seattle Young Engineers
Seattle Young Engineers offers summer camps for students entering 1st through 6th grade. Campers are divided into two groups, with first through fifth graders welcome to join the Lego Engineering camp and 4th through 6th graders for the Advanced Lego Engineering.
Each camp week runs from Monday through Friday from 9 a.m. to 4 p.m. with additional extended after-hours care available. At camp, students learn concepts like engineering, coding, and design all through Lego building.
In addition to mechanical learning, each week will focus on one social-emotional learning topic. The camp weeks have distinct themes such as Candyland or Architecture, and each includes one fun field trip.
The camps are held at Phinney Neighborhood Center in Phinney Ridge. Apart from summer camps, Young Engineers also offers after-school classes.
2. AAUW Tech Trek
AAUW Tech Trek Camp is a six-night sleepaway summer camp. The camp takes place at Pacific Lutheran University in Tacoma, just south of Seattle. Campers make use of all of the college facilities, from the science labs to the dining halls and dorm rooms.
This camp is open to girls who are entering 8th grade. During the week, they learn about astronomy, physics, engineering, robotics, and more. Students take part in lab work and field trips and also have the opportunity to meet successful women who work locally in STEM fields. 
It's heavily focused on empowering young women to pursue a STEM career with a goal to break down any social barriers.
3. Pacific Science Center
Pacific Science Center has over 100 camp themes for kids entering pre-K all the way up to 8th grade. Older students can join to help with leading the camps as part of a service-learning opportunity.
Campers might spend their time learning to cook, learning about the local animals, or even creating submersibles. Your child's summer will be full of a diverse calendar of activities.
There are locations all around, like Bellevue, Medina, Kirkland, and a few other spots. Each session runs 4 or 5 days per week, and the day hours include 9 am to 4 pm, with late extended care.
You can arrange for camp lunches for your child if you'd prefer not to have to pack them. In addition to summer programs, the Pacific Science Center also runs day camps during school breaks.
4. Girls Rock Math
Girls Rock Math summer camp runs in ten locations across Seattle, from Kruckeberg to Bellevue. Camps are open to girls in grades 1st – 6th. Rising seventh and eighth graders are also welcome as counselors in training.
A leadership program gives girls training and service hours that count towards high school graduation. Fun activities include dance, sports, and outdoor games.
Each summer camp week has a unique theme, like Alice in Numberland week, where kids explore symmetry or the Craft Math week where they'll make bracelets and self-portraits. Older campers might have the prints & patterns week, where they explore mathematical concepts through the creation of patterns in art.
5. University of Washington
The University of Washington Seattle campus offers an array of free engineering, medical, sciences, and computer programs for students.
Their engineering academy is a one-week program for high school seniors. It helps students explore their interest in engineering as they approach college and develops their skills in college-level math and engineering. 
The YSP-Reach program offers a chance for high school students to become familiar with neuroscience as well as neural engineering and other related fields.
The University of Washington also offers intensive summer research programs for Seattle residents. Once the school break ends, they have discovery days for middle school students interested in engineering and general STEM fields.
6. KIM Seattle
KIM, or Kids in Medicine and Science, offers interactive programs for kids to get a hands-on experience. The goal is to "Expose. Hook. Mentor," and classes shift focus as students age through them.
Learning includes unique activities like the dissection of a pig and forensic facial reconstruction. They learn how facial reconstruction can help police cases and even archeological digs. 
KIM runs a forensic science summer camp where middle and high school students spend the week investigating a realistic crime scene and other choices focusing on medicine and science. They are located at the Shoreline Community College for one week each summer.
7. Kids Science Labs
Kids Science Labs offers science summer camps with different themes. From June through September, children ages 4+ can enjoy hands-on science projects to immerse themselves in learning and discovery.
Themes include "Engineering University", "Med School for Kids", or "Adventures in Space". From medical to chemistry to engineering, there is always something exciting happening each week at camp.
Kids Science Labs Seattle location is in Green Lake. Camps are held here on school holidays at different points throughout the year. You can choose from full and half-day camps. 
8. Camp Biomed
Camp Biomed runs programs for small groups of up to 14 high school students. Their Seattle location is at Pacific University, but programs also run at Whitworth University in Spokane in the first half of the summer.
Each session is a week-long and has a specific focus. Camps range from an exploration of genetic engineering in which kids learn more about DNA and biotechnology to crime scene investigation. There are also microbiology camps where your camper can learn about viruses and even complete a case study.
The hours are 9 am-3 pm throughout the week with an exposition on Fridays where students show off what they have learned and created to their friends and families.
9. The Museum of Flight
The Museum of Flight day camp offers K to 9th-grade students a camp focusing on aviation and aerospace.
Groups are divided by age, and the youngest campers complete activities like creating model planes and other crafts as well as touring the airport. The oldest groups are focused on building robots and take part in a microgravity activity.
The summer camp takes place at the Museum of Flight which is inside King County International Airport just north of Sea-Tac.
10. YMCA Of Greater Seattle
The YMCA of Greater Seattle offers specialty STEAM summer camps for students. There is everything from the Amazing Art program where kids design their very own comics to LEGO robotics where campers get to turn Lego pieces into alligators that can actually bite! 
The YMCA offers a total of eight different specialty camps in seven spots around the Seattle area. You can find them across the city, including Dale Turner Family Y in Echo Lake, south of the city, all the way to the Auburn Valley Y in the north of Seattle. 
Each location runs camps from Monday through Friday and starts on different dates. The specialty programs last half the day from 9 am-1 pm and include snacks, but no lunch, so you'll just need to pack it for them. 
These camps are open to elementary school students in grades 2nd through 5th.