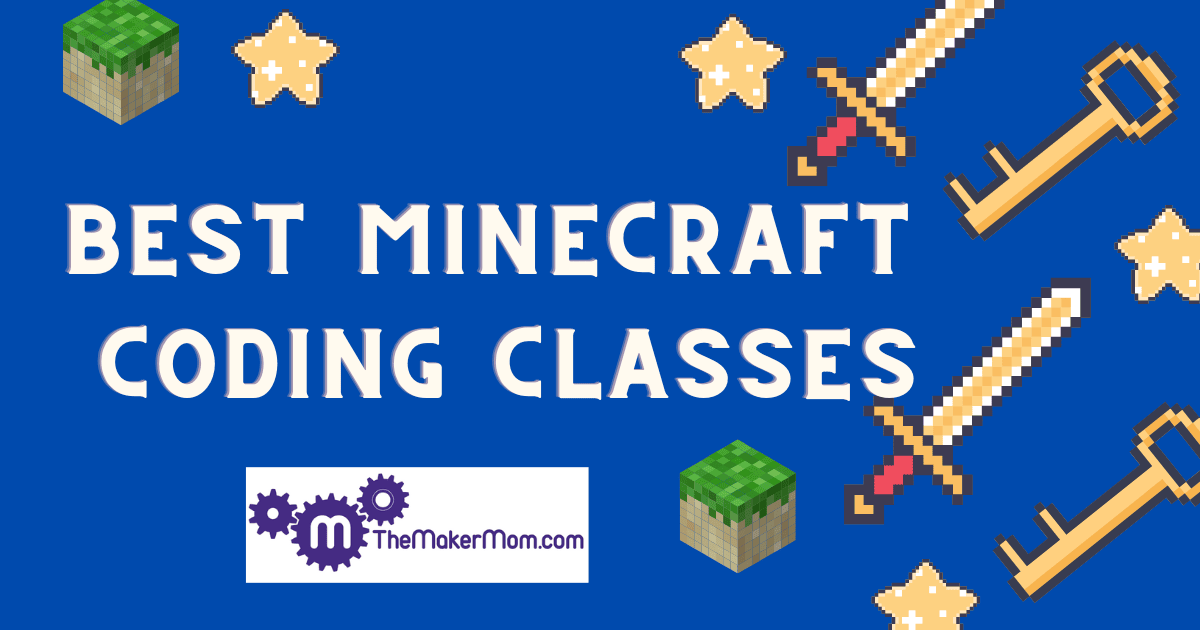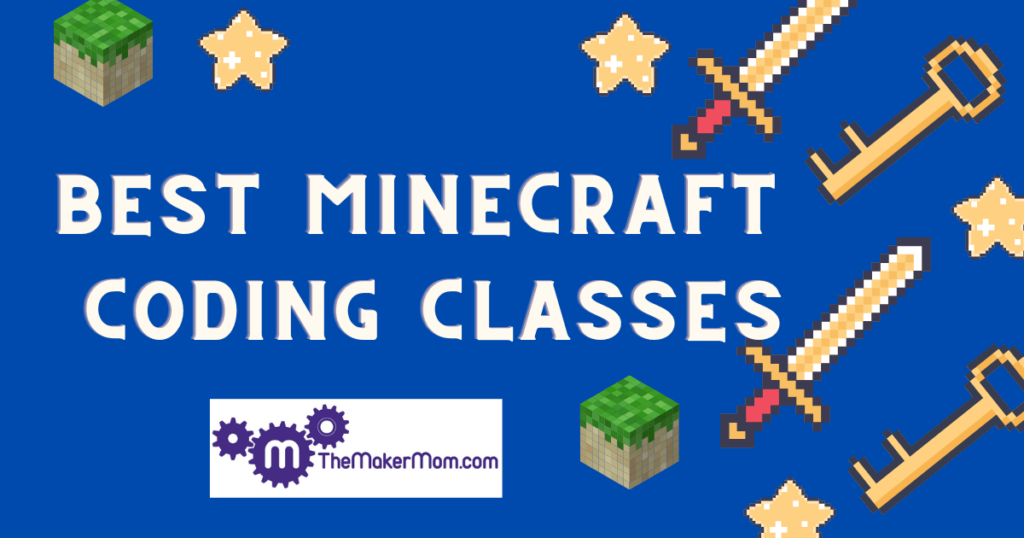 Minecraft has taken the world by storm, and with it kids everywhere can build real-life skills while immersed in worlds of their own creation.
The imagination that children naturally possess becomes an asset that can serve them for the future when they apply it to coding in Minecraft. Computer programming provides a strong base for future development in STEM-related fields, particularly in computer science and mathematics.
Minecraft classes can keep students engaged in teamwork and learning valuable social skills while participating in a game that most kids enjoy. Here are some of the best Minecraft coding classes out there for your kids to get started.
Maker Kids Minecraft Program
This Minecraft program by Maker Kids is offered to kids ages 6-13. They use Minecraft to introduce STEM concepts to kids with an emphasis on coding. These are natural entry points for kids who are already curious about what STEM has to offer, and Minecraft makes the lessons relatable.
Group lessons are available in weekly sessions of one or two hours. The kids classes are open to students all over the world and range from beginner to advanced-level coursework.
Their small class size provides children with a 5:1 student-to-instructor ratio. It serves as a great introduction to working in a collaborative environment and is small enough to keep from overwhelming more reserved kids.
If your child wants to take their learning to the next level, Maker Kids offers one-on-one instruction. These are weekly, hour-long sessions with a dedicated teacher and customized lesson plans.
Maker Kids also offers a program called Idea Incubator that combines all of their classes on coding, robotics, and Minecraft in one convenient package. In addition to this all-in-one class, Maker Kids offers camps, field trips, and birthday parties.
Create & Learn Minecraft Code to Mod Class
In the Minecraft Code to Mod class by Create & Learn, students in grades 5-9 can spend up to 12 weeks learning the fundamentals of coding through Minecraft. Classes meet once a week for an hour-long session featuring developing Minecraft mods.
Lessons are offered in four-week sessions, and parents can buy the full course for a set price or buy each individual session. It provides excellent value in terms of learning and can pair nicely with many of the other Create & Learn offerings on its website.
There is a free introductory lesson where students work on their own Minecraft mod in an emulator, so they can try it out before committing.
Create & Learn also has an exhaustive list of additional STEM camps and classes for students of all grade levels. There are classes for nearly every specialty, including Scratch, Roblox, Python, graphic design, and so many more.
iD Tech Minecraft Camp
iD Tech offers Minecraft coding courses and camps for students in elementary, middle, and high school. There are lessons covering every aspect of Minecraft, including game design, server development, and mod development.
The iD Tech programs help take Minecraft from a fun playtime activity to an applicable real-life skill set. This can turn break times throughout the year into excellent opportunities for learning and growth in popular programming languages. Through a well-crafted curriculum from the professionals at iD Tech, children transform a simple game into a platform for knowledge.
There are many locations around the U.S. for students to attend in-person camps and classes hosted by iD Tech, and the availability of 100% online classes means everyone can join. Kids ages 7-19 can find a wide range of lessons to sink their teeth into with both options. They also offer Roblox courses, which is another popular gaming platform. 
iD Tech also has a full selection of online courses and private lessons for one-on-one attention. These cover a wide selection of programming topics, including artificial intelligence, data science, C++/C#, Java, Python, and Javascript.
Code Kingdoms
For those who like to learn at their own pace, Code Kingdoms has a large catalog of interactive video lessons. Children ages 8-14 can follow along with step-by-step instructions and build examples with Code Kingdom's web-based code editor. Once coding is completed, kids can test out their work by themselves or with friends on their very own private server, included with their subscription.
Pricing for subscriptions is straightforward. You can pay $19/month, $99 annually, or for a one-time payment of $249, you can get a lifetime subscription. The annual option is especially attractive at over 40% off the monthly price.
Their custom-built web-based code editor teaches children about Java by introducing them to it with drag-and-drop simplicity. This makes it easier for students to learn about traditional text-based programming languages in the future.
Code Kingdoms also offers self-paced Roblox classes and has a bundled option that can give your kids the best of both worlds. If you'd like to pick up a subscription for the whole family, there is also a family plan that includes 5 separate accounts. Combine all of these with the option for a lifetime subscription, and young students can have years of fun learning at their fingertips.
BYJU's Future School
Code with Minecraft is a great program offered to children ages 6-14 through BYJU's Future School. All classes feature a detailed curriculum, one-on-one instruction, and progress reports for every participant. Subscriptions and flat, one-time rates are available for classes at several grade levels, from complete beginners to advanced.
The coding environment used at BYJU is Tynker, a world-renowned block-based coding platform that maximizes creativity and makes programming easy to learn. It provides an easy-to-understand approach that can help kids quickly create what's in their imagination and realize their designs directly through Minecraft.
As kids progress through the program, they receive game and app development certificates. They also get access to a large community of fellow students who can encourage and challenge each other in a cooperative environment.
BYJU's Future School isn't limited to just virtual coding lessons. They provide math, music, art, animation, and video instruction. Check out any of their options with a free, no-obligation trial. They even offer some options to parents looking to enjoy a shared activity with their kids.
Minecraft Education Edition
In partnership with Mojang and Microsoft, Minecraft Education Edition is a created list of lessons from the creators of Minecraft themselves. They deliver access to a range of pre-built lessons and environments for teaching Minecraft to others.
The online lessons cover the fundamentals of coding through engaging, story-driven content. Kids learn as they play in immersive three-dimensional worlds. They start with the basics and have the opportunity to move on to advanced topics with real-world applications like Python.
Coding is a central focus, but kids also have access to lessons that cover all of STEM as well as traditional school topics. There are courses in language arts, history, and culture.
Licenses can be purchased for only $12 per year. The license includes access to all the courses, tutorials, and multiplayer servers for up to 30 students working together.
iCamp Minecraft Camp
For curious kids around the NYC area, iCamp offers Minecraft summer day camps and virtual programs for ages 7-12. The curriculum for these camps is based on the STEAM model created by iCamp. In addition to the core concepts taught by traditional programs, arts are included to round out their education. The holistic approach of these summer day camps allows children to embrace their creativity and technical skills.
Kids are immersed in learning opportunities that transfer to confidence and competence in school. They also get the chance to participate in fun activities and go outside to enjoy nature. Their Minecraft coding course teaches everything from designing buildings and areas to creating entire virtual worlds.
Students meet 45 minutes a week for five weeks as they build a foundation in programming. They work together in small groups and practice their teamwork skills.
They also offer courses in Roblox and Scratch. For one-on-one attention, iCamp provides private instruction in their full range of topics.