STEM competitions are a great way to encourage kids interested in the fields to push themselves and achieve excellence. These competitions can bolster STEM skills, critical thinking, and problem-solving while working with a team to accomplish a goal. These competitions reward winners with recognition, monetary prizes, and mentorship under brilliant minds. You can find contests for every discipline.
This awesome list of STEM competitions is continuously updated. It's a great resource for classroom teachers, homeschool teachers, parents, and youth workers. There are several different entry requirements, ranging from simply having a good idea while others require well-written essays or full-on experiments and inventions.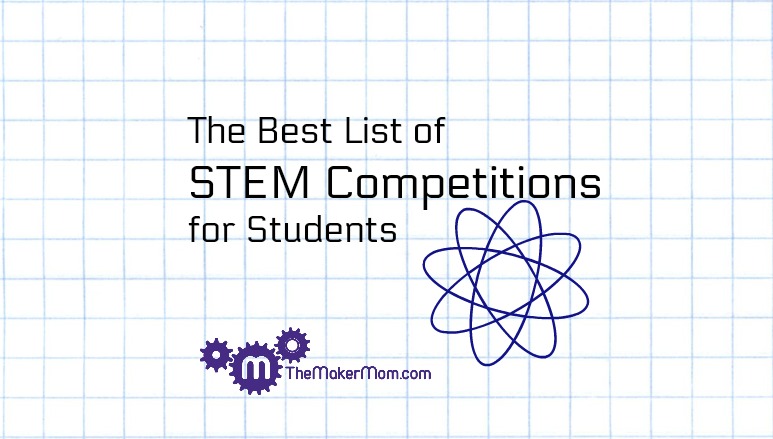 eCYBERMISSION
eCYBERMISSION is an online STEM competition for students in grades 6-9. The U.S. Army sponsors it as part of the Army Educational Outreach Program.
Teams of 2-4 students are led by an adult and choose one of two paths to compete. The science path is based on utilizing scientific inquiry to address a problem, implement experiments of design and process, collect data, and draw conclusions.
The engineering path follows a similar format. They state the problem, develop a design, build and test a prototype, draw conclusions, and introduce the solution to the community.
Registration for eCYBERMISSION begins in the summer, and the competition starts in January of the following year. Teams submit their mission folders on March 1. All groups can advance through virtual, regional, state, and national finals, which are held mid to late June.
Side note — competitions aren't the only way to keep kids busy during the summer. You can also send them to a STEM-focused summer camp.
MathWorks Math Modeling Challenge
Applied mathematics is the focus of the MathWorks Math Modeling Challenge. Real-world problems are posed as the challenge, and students get 14 hours over a weekend to solve the problem as a team. The Society for Industrial and Applied Mathematics hosts this competition annually to advance the disciplines of mathematics, computational and data science.
The mathematics competition starts and ends during the month of March. Teams have the ability to work remotely from wherever they choose. It's open to U.S. upperclassmen high school students and students ages 16-19 in the UK.
Any school that wishes to enter can do so with two teams of 3-5 students and one teacher. It's free to join and has over $100,000 in scholarships awarded annually to national winners. You can also find more math competitions for elementary to high school students with this guide.
Samsung Solve For Tomorrow
The Samsung Solve For Tomorrow contest is open for students in grades 6th through 12th who attend a public school. It's the perfect way for students to practice their STEM skills as they work on building out a prototype to solve a community-based problem.
Kids can raise awareness for issues impacting their local community and work on a way to address them. There are multiple rewards at each level of the competition, starting at the state level to the nationals.
The national contest winners can win over $100,000 worth of Samsung products and classroom materials for their school. However, winners and finalists from each state can also win similar rewards for their schools.
As they work on their projects, students will gain critical thinking skills, build leadership skills through important roles, and learn about the importance of teamwork. They can also receive one-on-one mentorship from Samsung employees. The deadline to submit an application is November 14th.
Society for Science Regeneron ISEF
Regeneron ISEF is an international pre-college STEM competition hosted in Dallas, Texas. It runs from May 13 to 19 at the Kay Bailey Hutchinson Convention Center. Students in grades 9-12 must first compete in regional competitions that are Regeneron ISEF-affiliated and advance before coming to ISEF.
Every conceivable discipline of science, technology, engineering, and mathematics is covered, allowing students to choose a subject that interests them most. The affiliated science fairs are available in nearly every state and around 70 countries in the world.
There are cash prizes in excess of $6 million awarded yearly and real-world experience that translates nicely into college and careers.
GAMA Aviation Design Challenge
The General Aviation Manufacturers Association hosts this Annual Aviation Design Challenge, where participants design, build and test an aircraft in a virtual fly-off. Around 150 schools can enter one team of at least 3 students in the competition.
Registered schools receive a complimentary Fly to Learn curriculum. This includes flight simulation software by X-plane and four to six weeks of lessons about the science behind it and airplane design. Once a team has completed the curriculum, they can apply this knowledge to modify a plane design to be judged.
Teams must register by mid-January to receive the curriculum. In March, all groups receive competition instruction, and final entries must be submitted by April. The winning high school is announced in May and receives their prize during the summer.
The team that wins the Aviation Design Challenge gets an all-expenses paid trip for four high school students and a chaperone to experience aviation manufacturing firsthand.
First LEGO League
If you have enthusiastic students or kids that love legos, you'll want to read about this. First LEGO League gives kids pre-K through high school the experience of hands-on, team-based competition with LEGO. This includes engineering and robotics challenges suitable for actual use.
This year's SUPERPOWERED challenge gives kids ages 4-16 the ability to learn about energy: where it comes from and how it's distributed and used. The POWERPLAY technology challenge for older students has them design, build, and program robots in a test of performance. In the CHARGED UP challenge, teenagers use robotics and engineering to harness renewable energy.
All the contests teach children the core values of building and design, and innovation through the process of creating a robot and competing against others. STEM provides the fundamentals for the entire process.
Registration for First LEGO League opens mid-May, and the global season launches on August 2nd. Teams worldwide are encouraged to join in on the fun and learning.
MATE ROV Competition
The MATE ROV Competition lets students from kindergarten to college participate in the creation and implementation of a remotely operated vehicle (ROV). It encourages the exploration and conservation of our underwater environments.
There are five levels for kids K-12, including separate programs for college students. Beginning with the Scout program, children learn about the underlying concepts, knowledge, and skills necessary to complete their mission and advance to Navigator and so on. Every new class level includes an expanded set of competencies and progressively harder tasks.
Every level includes a hands-on aspect where students build and test a working ROV. The advanced-level ROV is a full-scale model capable in unpredictable conditions. MATE ROV Competitions are held all over the U.S. and can be found regionally.
Microsoft Imagine Cup
Microsoft has hosted over 2 million students with the Imagine Cup over the past 21 years. Kids ages 16 or older everywhere are encouraged to compete in teams of no more than 4.
The Imagine Cup is a technology-focused contest that inspires kids to build new technologies, improve and learn skills, and network with professionals who are the best in their field. Participants address a real-world problem and design and implement a solution based on teamwork and feedback.
A full suite of training and development tools is available to everyone to create their research projects. In addition, verified students receive $100 in cloud credit for their work.
Prizes for The Imagine Cup include a chance to showcase your idea, training, and mentorship from Microsoft professionals. The World Championship winner also receives $100,000 to pursue their idea further.
3M Young Scientist Challenge
All it takes to enter The 3M Young Scientist Challenge is a 1-2 minute video that outlines an original solution to an everyday problem. This year's Big Question is, How can you improve lives for the future? America's Top Young Scientist will win $25,000 and a chance to work with a 3M mentor.
It's a great option for moms looking to enroll their homeschooled child into. One of the aspects that makes this competition so great for them is that they don't need a fully-outfitted lab or dramatic setting to state their case. They just need a short video communicating their creativity, scientific knowledge, and persuasiveness.
Hands-on activities and project-based learning are great ways to foster an appreciation for exploration and innovative thinking. But let's be real, this competition offers life-changing opportunities.
There are also opportunities for prizes and recognition at the state level and each grade level.
VEX Robotics
VEX Robotics hosts an international competition that provides middle school to college student teams with hands-on work in robotics engineering along with soft skills like teamwork and problem-solving. Students compete year-round at more than 350 events that culminate in April at the VEX Robotics Competition World Championship.
The robotics competitions are fun, and support systems are in place to help new teams get up to speed. Since STEM (Science, Technology, Engineering, Math) is a hot topic in education, you may find grants to help you start a team for your school or youth group.
The international competition brings together 1,000 top competitors from middle school, high school, and college levels. You can also find online robotics classes for kids if they want to start their path to learning about robotics before competing.
Congressional App Challenge
The annual Congressional App Challenge (CAC) is a Congressional initiative to encourage student engagement in STEM and, more specifically, computer science. Middle and high school students across America are invited to participate individually or in teams.
In order to participate, a child must live or go to school in a participating congressional district. They need to build an app in any language for any platform. In addition to making the app, applicants need to create a video explaining what it does and how it works. The Challenge winners get recognition from the members of Congress, and their app is displayed on Capitol Hill. The CAC aims to bridge the gender, geographic, and racial gaps.
Future City
Future City is an engaging engineering competition for middle school students in Washington, D.C. It's one of the most affordable STEM competitions around and has a low barrier to entry. It's a powerful STEM learning opportunity, especially this year!
Powering Our Future challenge is about creating a resilient power grid for a city that exists at least one hundred years into the future. The power grid must be able to survive a powerful natural disaster such as an earthquake, hurricane, tornado, ice storm, or extreme heat. The Future City competition encourages students to develop a deeper understanding of our current electrical grid and everything about electricity, including how its generated and stored.
It encourages kids to think about their role in shaping an awesome and sustainable future. It's a relatively low-budget event. Teams are supposed to creatively upcycle materials for their model and are limited to a budget of $100. Generous sponsors ensure that most expenses are covered for groups that make it to the national competition — airfare, hotel, and many meals.
SkillsUSA
An event that brings together more than 8,000 students and 2,000 educators to host 100 career and technical competitions in a 1-million-square-foot exhibit space.
The 100 contests at the SkillsUSA represent 130 occupational titles. These stem competitions for high school students and older range from aviation repair to welding, with skills like cosmetology, masonry, cabinet making, baking, offset printing, screen printing, computer programming, extemporaneous speaking, car repair, motorcycle repair, HVAC and appliance repair, robotics, crime scene investigation, and CNC milling in between.
The students at the NLSC are 90% from high school and 10% from post-secondary schools — representing some of our nation's top talent. Event judges and parents aren't the only ones roaming the exhibit floor as it's also heavy with industry recruiters.
SkillsUSA competitors range in age from 12 all the way to post-college professionals.
National Science Bowl
The U.S. Department of Energy (DOE) National Science Bowl is a nationwide science competition. It's the perfect place for students to truly test their knowledge. Middle and high school student teams from all walks of life consist of 4 students and one teacher/coach. The competition takes place near the end of April each year.
Newhouse Architecture + Design Competition
This competition, run by the Chicago Architecture Center, inspires teens to understand why design matters by researching, representing, and redesigning the built environment to solve challenges that are personal and place-based. It is only for Chicago-area students. Entries are usually due in early spring.
Team America Rocketry Challenge
(TARC) is the world's largest student rocket contest. The contest challenges students to design, build and fly a rocket to safely carry a raw egg payload to a specific altitude and back within a certain amount of time. Registration opens in the fall, and finals take place in the spring.